Thursday, January 8, 2015 CARD.com Rolls Out Deals With Paddington Bear, Chef Jason Santos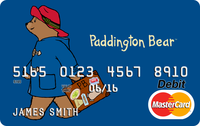 Santa Monica-based CARD.com, which offers up personalized prepaid MasterCards from a growing catalog of brands, said today that it has signed two new partnerships--one bringing Paddington Bear cards to the market, and another with celebrity chef Jason Santos. In the Paddington Bear deal, CARD.com said it will offer up thirteen card images featuring the Paddington children's character. The separate deal with celebrity chef Jason Santos--who owns Boston's Abby Lane and Back Bay Harry's--will feature images of Santos, his trademark blue hair, and his food creations. CARD.com is led by Ben Katz.
Support Our Coverage Of SoCal's Tech Ecosystem!
Tap into Southern California's growing tech ecosystem, by signing up for a two week free trial membership. Find new tech customers, find high tech startups and jobs, find venture funding, help support our news coverage!
Learn More
---
---