Wednesday, February 16, 2011 Dun & Bradstreet Credibility Partners With Cedric the Entertainer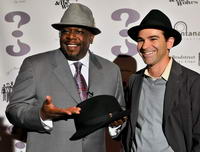 What do Cedric the Entertainer and Los Angeles-based Dun & Bradstreet Credibility Corp., the rapidly growing business credit information firm headed by Jeff Stibel, have to do with each other? Apparently, you should now be able to discern the D&B Credibility employees based on their stylish hats, after the company and Cedric the Entertainer said they had partnered on a new Fedora hat line from the actor and comedian.
D&B said it has placed the first corporate order for hats from Cedric the Entertainer, as part of an employee recognition program. D&B Credibility is a new, privately funded firm backed by Great Hill Partners, and run by repeat entrepreneur Stibel, who has been involved in such companies as Edgecast, Autobytel, The Search Agency, Web.com, and United Online. Stibel and Great Hill bought out Dun & Bradstreet's business ratings business--which has been around since 1841--in a bid to apply Internet marketing to that industry. The firm has set up shop in Malibu and has been aggressively hiring, most recently snagging former ValueClick CFO Sam Paisley for its own CFO. Cedric the Entertainer's WHO CED? hat line debuted last night.
---