Thursday, April 5, 2012 textPlus Launches Android App In Canada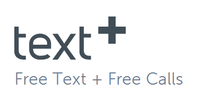 Marina Del Rey-based free text messaging app developer textPlus, said yesterday that it has launched its app on Android, in Canada, offering up free texting for users of mobile phones in that country. The firm, which is venture backed by Matrix Partners, GRP Partners, and Kleiner Perkins Caufield & Byers, said its textPlus Free Text and Calls for Android app now will offer free texting plus calls in Canada, including offering phone calls without any long distance fees.
textPlus said the addition of Canada marks the beginning of an international expansion for the app. textPlus is very popular for users looking to avoid text messaging fees, allowing users to send and receive free text calls by assigning them a phone number they can give to their friends. The app allows free texting to any mobile number in both Canada and the US, and also allows other mobile phone users to text people back through a textPlus phone number. textPlus offers a similar text-only app for the iPhone in Canada; the firm says it is planning to launch an iOS app with phone call support soon.
---