Thursday, May 9, 2013 AeroVironment Wins Ford For Plug-In Electric Vehicle Charging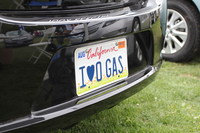 Monrovia, California-based electric vehicle charging developer Aerovironment has added a big new customer for its charging station installation service today: Ford Motor Company. According to AeroVironment, it will be the preferred installation partner and authorized charging station supplier for the Ford Focus Electric, C-MAX Energi and Fusion Energi plug-in electric vehicles. The win comes on top of existing deals AeroVironment has with Nissan and BMW for their own, electric vehicle charging installation programs.
According to AeroVironment, it will provide turnkey, professional installation of its Ford-approved 240-volt charger. Those chargers allow vehicles to charge much faster than a standard, AC connection at a home. Aerovironment says that so far, it has installed more than 11,000 charging stations across North America. The charging time on Ford's C-MAX Energi and Fusion Energy is 2.5 hours. The company said that recharging a Focus Electric takes less than 4 hours, compared to 18 to 20 hours for a full recharge via a standard, 120-volt wall outlet.
It's an interesting demonstration of the growing adoption of electric cars, now that major manufacturers have adopted their own electric car technology; AeroVironment was one of the key firms behind the installation of public electric charging stations back in the 1990's, when California attempted to force the market to adopt electric cars via its Zero Emission Vehicle program. That program resulted in the installation of many public charging stations at grocery stores and shopping centers, although those stations ended up sparsely (if ever) used. The tide now appears to have turned, where there are more electric vehicles on the road than charging stations. (Photo: 100 percent electric vehicle at a recent Earth Day event in Southern California)
---