Thursday, December 17, 2009 Break Media Inks Video On Demand Deal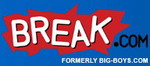 Los Angeles-based Break Media, which operates a number of male-oriented video and other content sites, announced Thursday that the firm has inked a deal with IPTV firm Clearleap. According to Break, the deal calls for Clearleap to include a part of Break's video library in Clearleap's Content Marketplace, which is used by cable and IPTV providers for serving up their video on demand programming. Financial details of the agreement were not disclosed.
Get More SocalTech Data
Try our two week free trial to find new tech customers, find high tech startups and jobs, find venture funding, and more!
Learn More
---
---