Wednesday, February 3, 2010 Cogi Launches iPhone App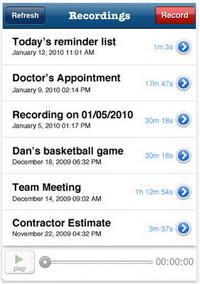 Santa Barbara-based Cogi, a startup which allows people to capture and transcribe conference calls and conversations, announced today that it has released a new, iPhone application. The firm said the app allows users to record and share meetings, interviews, lectures, and more on their iPhone, and to share those with others via a web browser. The firm said the new app is now available on the Apple App store. The app costs $1.99, and Cogi said that users can also subscribe to other, Premium service options which add transcription and other features to the software.
Get More SocalTech Data
Try our two week free trial to find new tech customers, find high tech startups and jobs, find venture funding, and more!
Learn More
---
---